Blogging Live: Tim O'Reilly at DrupalCon 2010
Tim O'Reilly is the Tuesday keynote speaker at DrupalCon 2010. His talk was on open source in the cloud era. I had some WiFi issues that slowed my typing down so I've embedded the his slide presentation at the end of this post.
2:30 PM: What is wrong with government? "We need to do more than shake the vending machine." O'Reilly is giving examples of people doing things themselves. Do it yourself on a civic scale...the heart of Gov 2.0. Drupal is an example of do it yourself spirit. O'Reilly's putting Drupal back into the speech on how people come together to build something better.
Technology is going to push past the web we know, but also going to call us to be creative and doing it ourselves. Work on stuff that matters.
2:20 PM: Open data movement is going to be just as big as the open source movements. Talking about corporate data sharing.
Discussion now leading into government 2.0 discussions. Of course O'Reilly mentions whitehouse.gov, a well known drupal site.
Open data and open government. Discussing "open government data" principles. Going to have to look for the URL on this one. Also, take a look at data.gov.
215 PM: Competition and freedom needs to be present. Tim O'Reilly is now discussing who owns what...and interestingly an observation that companies that are open sourcing are often open sourcing their competition's niche.
200 PM: Conversation still going on regarding devices and O'Reilly now taking a look at Google voice recognition on mobile devices. Devices such as these depend on cooperating cloud data services.
1:55 PM: The world of the web is "kinda getting old". What is the next big thing? O'Reilly is hinting the focus is on devices...lots of devices providing us a "sensor platform". Processing is being done in the cloud. Definately a different world.
Discussion now leading into "augmented reality" and using Yelp as an example. Also the barcode apps on iPhone (and Bryan thinks also Android).
1:45 PM: Slow Internet connection, but we'll do our best in trying to blog this event. Bill O'Reilly starts off this seminar discussing that open source continue to evolves and new approaches and new problems need to be answered. His methodology...includes watching the "alpha geeks".
Back to top
---
About this CMS Enthusiast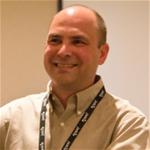 Bryan Ruby is the owner and editor for CMS Report. He founded CMSReport.com in 2006 on the belief that information technologists, website owners, and web developers desired visiting sites where they could learn about content management systems without the sales pitch. Besides this site, you can follow Bryan at Google+ and Twitter.