Tiki 8.5 and 9.1 Released
The Tiki Software Community Association is proud to announce the immediate availability of the latest versions of Tiki Wiki CMS Groupware: 8.5 and 9.1.
The Tiki 8.5 release represents the final release for the 8.x series. No additional work is planned for the 8.x series. The Tiki 9.x series is planned to be supported as a Long Term Support until November 2015 (or upon the release of Tiki 16).
Both releases include several fixes and updates, including a security patch first reported by Lukas Reschke regarding an optional Tiki feature, swfupload, first introduced in Tiki 7.0.
Tiki admins are highly encouraged to upgrade to Tiki 8.5 or 9.1. As a workaround, Tiki admins can set the Upload progress bar option to None in order to secure their sites. See the Tiki Release Notes (http://tiki.org/ReleaseNotes) for complete information.
To download these newest releases (or any Tiki release), visit the Tiki download page at http://tiki.org/download.
About Tiki
Tiki Wiki CMS Groupware is a full-featured, web-based, multilingual (35+ languages), tightly integrated, all-in-one Wiki+CMS+Groupware, Free Source Software (GNU/LGPL), using PHP, MySQL, Zend Framework, jQuery, and Smarty. Actively developed by a very large international community, Tiki can be used to create all kinds of Web applications, sites, portals, knowledge bases, intranets, and extranets. It was formerly named TikiWiki. Tiki is managed by the Tiki Software Community Association. For more information, visit http://tiki.org .

Twitter: @tikiwiki
Facebook: http://www.facebook.com/group.php?gid=6607687318
More: http://tiki.org/networks
---
About this CMS Enthusiast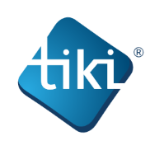 Tiki is a powerful all-in-one web-based application, offering collaboration, publishing, commerce, social networking, CRM and office productivity tools. Tiki is the ideal tool for you to build and maintain your Website / Wiki / Groupware / CMS / Forum / Blog / Bug Tracker / Online Office Suite or any other project you can imagine running in your browser window. Tiki is free, both Free Software (as in "Free Speech") and Free of Charge (as in "Free Beer"), and for everyone! It has all the features you need "out-of-the-box":