Vive Tiki! TikiFest Strasbourg
All members of the Tiki Community are invited to join TikiFest Strasbourg, July 6-9, in Strasbourg, France. This marks the beginning of the 2011 Tiki Summer Tour. During the TikiFest, participants expect to work on several items including extending Tiki's multilingual capabilities, improving the Tiki calendar, and Tiki Suite.
An online component, for Tiki Community members not able to attend in person, will be available via a BigBlueButton web conference. Details will be posted on the http://tiki.org/TikiFestStrasbourg2011 page.
Many participants will stay in Strasbourg to attend RMLL 2011 (Rencontres Mondiales du Logiciel Libre/Libre Software) and expo, which runs July 9-14. At RMLL, be sure to catch the presentation on Tiki Suite - a collection of open source software to improve collaboration and productivity small and medium-sized organizations. See http://2011.rmll.info/Tiki-Suite(external link) for details.
About Tiki
Tiki Wiki CMS Groupware is a full-featured, web-based, multilingual (35+ languages), tightly integrated, all-in-one Wiki+CMS+Groupware, Free Source Software (GNU/LGPL), using PHP, MySQL, Zend Framework, jQuery, and Smarty. Actively developed by a very large international community, Tiki can be used to create all kinds of Web applications, sites, portals, knowledge bases, intranets, and extranets. Tiki is managed by the Tiki Software Community Association. For more information, visit http://tiki.org.
Twitter: @tikiwiki
Facebook: http://www.facebook.com/group.php?gid=66...
More: http://tiki.org/networks
Back to top
---
About this CMS Enthusiast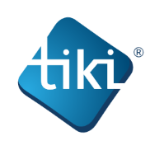 Tiki is a powerful all-in-one web-based application, offering collaboration, publishing, commerce, social networking, CRM and office productivity tools. Tiki is the ideal tool for you to build and maintain your Website / Wiki / Groupware / CMS / Forum / Blog / Bug Tracker / Online Office Suite or any other project you can imagine running in your browser window. Tiki is free, both Free Software (as in "Free Speech") and Free of Charge (as in "Free Beer"), and for everyone! It has all the features you need "out-of-the-box":